Rhythm Series Freestyle Dirt Jumps
A Project of Blue Ridge Off-Road Cyclists
Blacksburg VA 24060
The Blue Ridge Off-Road Cyclists plan to add some fun dirt jumps to the Blacksburg Rotary Mountain Biking Skills Park. The project will create some fresh features at the park, attracting new visitors and helping riders improve their skills.
The Rhythm Series Freestyle Dirt Jumps project will add a line of about 220 feet with twelve jump features ranging from step ups to table tops to transfers. The Blacksburg Rotary Mountain Biking Skills Park does not currently house these kinds of jumps, and the project will provide skill development opportunities to help riders advance to higher level trails in the National Forest trail system.
This park is used by families, beginning riders, the middle- and high-school mountain biking teams, and visitors to our area. The park also links to our area greenway (Huckleberry Trail) that connects Blacksburg, Christiansburg, Montgomery County and the Virginia Tech campus, providing easy access for nearby communities.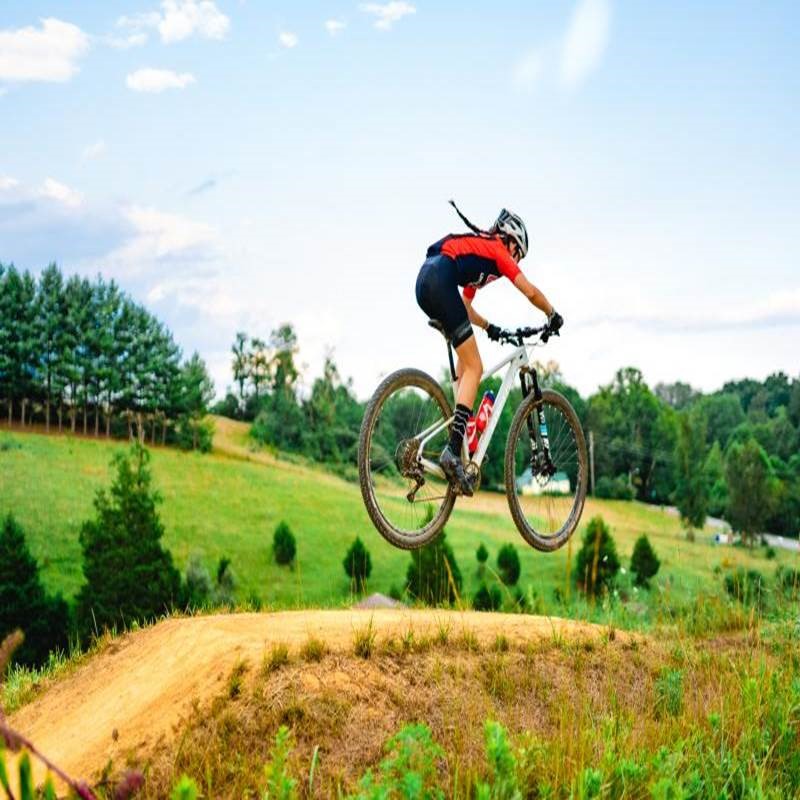 March 2021 – Thank you for everyone's support in contributing to the IMBA Dig In grant for the funding of the NEW rock garden trail at the Blacksburg Rotary Mountain Biking Skills park.
BROC (Blue Ridge off-road Cycling group) www.blueridgeoffroadcyclists.org submitted a grant proposal on Blacksburg's account. We not only were granted a spot in the contest but received even more funds then we were asking for. We couldn't have done it without BROC's help!
The funds totaled $2800 towards the project. Additional funds were donated by a private donor who the trail will be named after and a fundraising race event that we held.
We are sourcing rock, working with our contractor Eastern Trail company and looking for warmer drier weather. Stay tuned for more updates.
IMBA Grant by way of Blue Ridge Off-Road Cyclists
Blacksburg was just awarded a matching $2000 grant from IMBA by way of Blue Ridge Off-Road Cyclists. So we need to raise $1000 for the match. This project is to build a rock garden approximately 200 ft long that comes down from the top of the park and connects to the Terrain Park. This trail would create a unique rock feature with different lines of difficulty. Every dollar counts!
Also we will be conducting additional fundraising activities this fall to help support this project and several other projects for the park.
October 25th 2019 Mountain Film
Grand Opening and Ribbon Cutting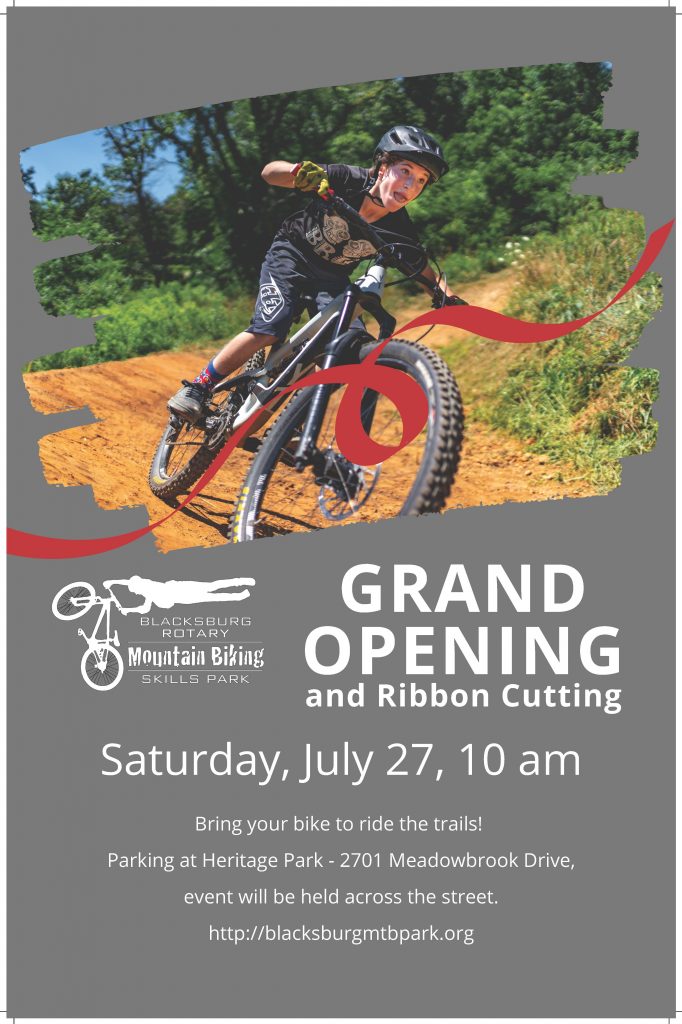 Volunteer to help us get the Mountain Biking Skills Park ready for opening
It is almost time for the grand opening of the Blacksburg Rotary Mountain Biking Skills Park, but we need your help to make sure it is ready to go! There are two workdays scheduled – Sunday, July 14 and Sunday, July 21, both from 8 a.m. to noon. We need volunteers to move dirt, adjust features, and harden the trail. Please bring any tools you think would help us. No need to register to help, just show up. The grand opening will be Saturday, July 27 at 10 a.m. If you would like more information, sign up online or call the Blacksburg Parks & Recreation Department at 540-443-1100.
April 27, 2019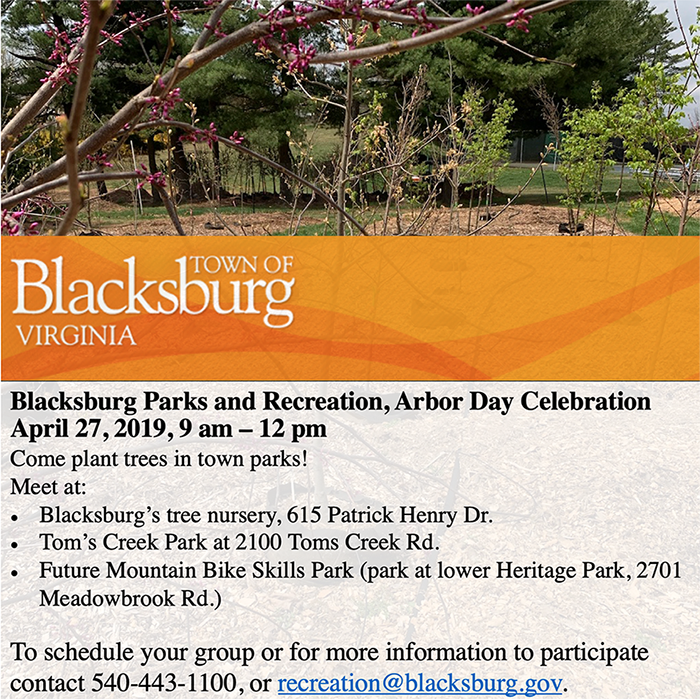 ---
October 17th. 2018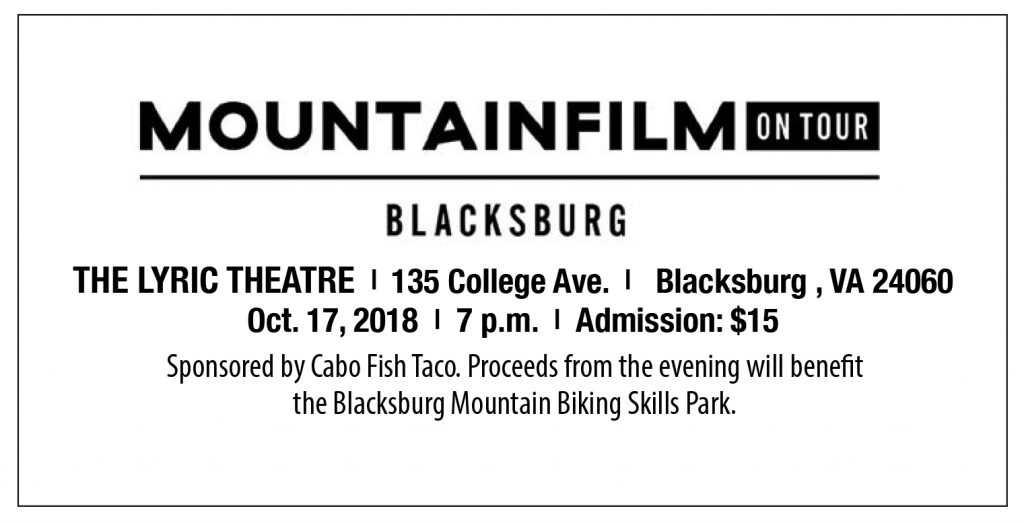 Tickets are $15 General Admission. Tickets are on sale at Cabo Fish Taco, at the Lyric Theatre Box Office, by phone at 540-951-4771, on online at www.thelyric.com/live-at-the-lyric.
Mountainfilm on Tour is coming to Blacksburg for the first time! The 2018 Mountainfilm features the best short films from the annual Mountainfilm festival in Telluride, Colorado. Join us for an evening of culturally rich, adventure-packed and incredibly inspiring documentary films curated from the Mountainfilm festival.
Proceeds from the evening will benefit the Blacksburg mountain biking skills park.
---
April 5th 2017
Exciting news!
BOTTOM of the Stairs (located at 217 College Ave) in downtown Blacksburg is having a "soft opening" the first week of April for their new restaurant. They are going to donate 100% of the food sales (alcohol not included in the %) for the night of April 5 to the Mountain Bike Skills Park project!
The first 50 people to sign up for a 5-7pm seating and then 50 more for the 7-9 timeframe will be the honored guests. BOTS plans to be open to the public the following day so please support them even if you aren't able to attend the April 5th opportunity.
Be the first to respond by emailing: recreation@blacksburg.gov
The names of the lucky individuals will be given to BOTS for confirmation.
Thanks for your support!
---
June 23rd 2016
Join u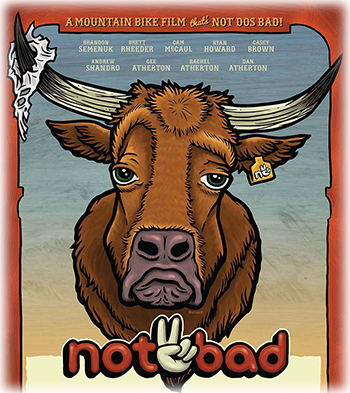 s under the stars as we screen the original Trek mountain bike film NotBad and debut the brand new sequel Not2Bad
Tickets are $10, available at East Coasters bike shop. All proceeds will be donated to the

Mountain Bike Skills Park project.
*Tons of great raffle prizes throughout the night!
1$ raffle tickets (proceeds going to Mtb. Bike Park project)
Thursday June 23rd
7-10 PM (Movie at 9PM)
2351 Glade Road
Blacksburg, VA 24060
For more information call:
540 951 2369
RIDE RIDE RIDE! The gang at Blacksburg Bike Party have a fun ride planned to the event. Check out their event page if you want to join the ride! Facebook event page here.
Click here for Facebook Event Page
Click here for Facebook Event Page
CHECK OUT THE TRAILER TO THE ORIGINAL NOT BAD FILM!